BOSTON-January 2, 2020: As artificial intelligence plays a growing role in radiology, how can the value it delivers be measured? Academic Radiology has published an article titled, "Impact of the Artificial Nudge", exploring these issues. The article, authored by Adam C. Powell, Ph.D., provides a framework for measuring the financial impact of AI on a healthcare organization, as well as commentary regarding the generalizability of value-related analyses. According to Dr. Powell, "As the nation moves towards value-based care, understanding the financial benefits of innovations such as those related to artificial intelligence will only grow in importance. I wrote this article to provide others a pathway to use when exploring value."
Academic Radiology is the official journal of the Association of University Radiologists, and in 2018 had an impact factor of 2.267.
The article is available online at: https://www.academicradiology.org/article/S1076-6332(19)30437-4/fulltext
WASHINGTON DC-June 11, 2019: Apps are playing a growing role in the delivery of mental healthcare. Nonetheless, there is no single means through which they are being reimbursed. To highlight the diverse set of pathways that are being used for reimbursement in the mHealth industry, Adam C. Powell, PhD., delivered the lunchtime keynote on the subject at the 2019 Mental Health America Policy Institute. Other speakers at the event included Congressman Markwayne Mullin, and leaders in digital health, such as Megan Coder of the Digital Therapeutics Alliance, Yuri Maricich of Pear Therapeutics, Anil Jina of Akili Interactive, and Adam Brickman of Omada Health.
Although a recording of Dr. Powell's lecture is not available, it closely mirrored an article he wrote on the subject with Matthias Bowman and Henry Harbin: Reimbursement of Apps for Mental Health: Current Practices and Potential Pathways. The article, which has been accepted for publication by JMIR: Mental Health, may be downloaded here: https://doi.org/10.2196/14724
NEW DELHI, INDIA & MALE, MALDIVES: The American Center in New Delhi, India and in Male, Maldives, along with the Indian School of Business, have jointly hosted a webinar by Adam C. Powell, Ph.D. on the role of technology in driving healthcare access and affordability. Dr. Powell began his presentation by providing a history of the changes that have occurred in the United States as a result of the HITECH Act and the Affordable Care Act, before venturing into recent developments in India, including Ayushman Bharat, Aadhaar, and the proposed DISHA legislation. The lecture concluded with a period for questions and answers. A recording of the lecture is available online: https://www.facebook.com/americancenternewdelhi/videos/414515019111625/
The American Center is the U.S. Embassy's cultural center, and offers a combination of art exhibits, book launches, musical programs, and other educational activities. The American Center is administered by the United States Department of State.
BOSTON–December 3, 2018: In response to the high interest in measuring value in the context of healthcare, Adam C. Powell, Ph.D. has developed a course on the subject. His course, Quantifying the Value of Informatics, is available to students pursuing Master's degrees in Health Informatics at Northeastern University. Due to the popularity of the course when it was initially offered in Spring 2018, it was offered immediately again in Fall 2018. Topics covered in the course include:
Measuring tangible value
Measuring intangible value
Creating value
Making good estimates without gathering data
Gathering data to estimate value
The impact of time on value
The impact of risk and uncertainty on value
Metrics for assessing value
The course draws upon Dr. Powell's experiences helping organizations determine and demonstrate the value that they deliver. Return On Investment (ROI) analyses have been performed for numerous Payer+Provider clients.
BOSTON– May 14, 2018: Following on the publication of their article, The New Digital Divide For Digital Biomarkers, Drs. Adam Powell and Jorge Rodriguez presented a lecture on the topic at the Bridge to Pop Health East conference. Their lecture, titled "Capturing Digital Biomarkers to Drive Predictive Models", explained the concept of a digital biomarker, explored the barriers to capturing digital biomarkers, and reviewed recent efforts to use digital biomarkers for predictive modeling. Participation in the conference was a part of Payer+Provider's multiyear commitment to developing thought leadership in the areas of digital health and mHealth.
What is a digital biomarker?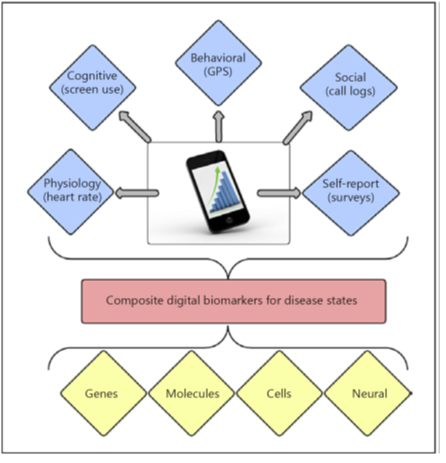 Diagram from: Torous J, Rodriguez J, Powell A. The New Digital Divide For Digital Biomarkers. Digital biomarkers. 2017;1(1).
Individual digital biomarkers are raw data on the behavior, physiology, cognitive performance, and self-perceived state of an individual. Individual digital biomarkers include metrics like heart rate, screen use, location data, call log data, and self-reported survey data. They may potentially be consolidated into composite digital biomarkers for disease states. These composite biomarkers may then be used to infer things about an individual's status, alongside the biomarkers used by traditional basic science, such as genes, molecules, cells, and neural activity.