BOSTON–December 3, 2018: In response to the high interest in measuring value in the context of healthcare, Adam C. Powell, Ph.D. has developed a course on the subject. His course, Quantifying the Value of Informatics, is available to students pursuing Master's degrees in Health Informatics at Northeastern University. Due to the popularity of the course when it was initially offered in Spring 2018, it was offered immediately again in Fall 2018. Topics covered in the course include:
Measuring tangible value
Measuring intangible value
Creating value
Making good estimates without gathering data
Gathering data to estimate value
The impact of time on value
The impact of risk and uncertainty on value
Metrics for assessing value
The course draws upon Dr. Powell's experiences helping organizations determine and demonstrate the value that they deliver. Return On Investment (ROI) analyses have been performed for numerous Payer+Provider clients.
BOSTON– May 14, 2018: Following on the publication of their article, The New Digital Divide For Digital Biomarkers, Drs. Adam Powell and Jorge Rodriguez presented a lecture on the topic at the Bridge to Pop Health East conference. Their lecture, titled "Capturing Digital Biomarkers to Drive Predictive Models", explained the concept of a digital biomarker, explored the barriers to capturing digital biomarkers, and reviewed recent efforts to use digital biomarkers for predictive modeling. Participation in the conference was a part of Payer+Provider's multiyear commitment to developing thought leadership in the areas of digital health and mHealth.
What is a digital biomarker?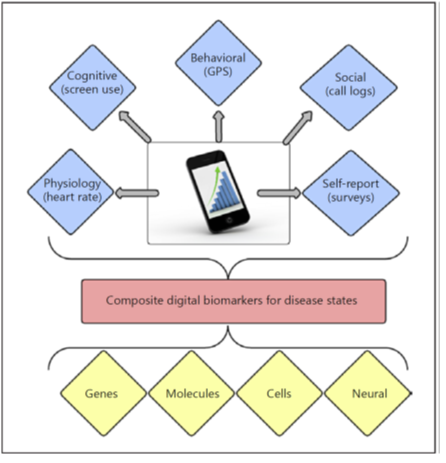 Diagram from: Torous J, Rodriguez J, Powell A. The New Digital Divide For Digital Biomarkers. Digital biomarkers. 2017;1(1).
Individual digital biomarkers are raw data on the behavior, physiology, cognitive performance, and self-perceived state of an individual. Individual digital biomarkers include metrics like heart rate, screen use, location data, call log data, and self-reported survey data. They may potentially be consolidated into composite digital biomarkers for disease states. These composite biomarkers may then be used to infer things about an individual's status, alongside the biomarkers used by traditional basic science, such as genes, molecules, cells, and neural activity.
NEW JERSEY– February 1, 2018: The Kennedy Forum has released, A Consumer Guide to Drug Formularies: Understanding the Fundamentals of Behavioral Health Medications, an Issue Brief intended to help everyday Americans understand how formularies function, how health insurance can impact access to medication, and how state and federal laws regulate formularies for pharmaceuticals. The Issue Brief explains how and why health insurance companies manage the utilization of pharmaceuticals, so that consumers can understand formularies and advocate for their rights. Since Adam C. Powell, PhD., President of Payer+Provider Syndicate, has published numerous articles related to utilization management, he was engaged by The Kennedy Forum to contribute to the creation of the Issue Brief.
PUNE-July 21, 2017: Tata Communications and Ruby Hall Clinic organized an event on corporate telehealth, titled Hello Health, and held in Pune, Maharashtra, India. Adam C. Powell, Ph.D., President of Payer+Provider Syndicate, was invited to speak at the event via webinar. His speech discussed how a hub-and-spoke model enables telemedicine to achieve economies of scale, and how its use has rapidly grown among American corporations. At the conclusion of the event, Ruby Hall Clinic and Tata Communications issued a press release:
Technological advances are present in nearly every aspect of medicine – from advanced equipment to even monitoring and connectivity. Telehealth too, has made huge strides and has taken the global healthcare industry by storm. In this context, Ruby Hall Clinic along with its technology partner Tata Communications, a leading global provider of network, cloud, mobility, security and collaboration services, organised a seminar 'Hello Healthcare' on 13th of July in Pune City focusing on corporate health. Mr. Shiv Khera, famous U.S. based author of International Bestseller 'You Can Win', sold over 3.5 million copies, was one of the key speakers at the event. Also, Dr. Adam Powell, Healthcare Economist and President of Payer+Provider Syndicate, Boston, U.S.A. connected via webinar to share his experience with the audience. The event was attended by over 150 top management and Human Resource representatives from many national and multi-national companies.

There was also a stimulating and insightful panel discussion with Mr. Rajneesh Malviya, VP and Centre Head, Infosys, Dr. Ganesh Natarajan, Chairman, GTT and Nasscom, Mr. Subodh Bhave, Head, Safety and Health, TCS, Mr. Vishal Agarwal, MD, Avaya India, Dr. B.S. Ratta, Consultant Paediatric Surgeon and Urologist, Ruby Hall Clinic and Dr. Purvez Grant, Chief Cardiologist and Managing Trustee, Ruby Hall Clinic.

Poised to cross the two hundred crore mark by 2020, the Indian telemedicine market is one of the fastest growing in the world and if tapped correctly, can have an immensely positive effect. Explaining more about the success model of telemedicine in the U.S.A., as well as potential benefits to corporations and India, Dr. Adam Powell, Healthcare Economist and President of Payer+Provider Syndicate, Boston, U.S.A. said, "Telemedicine can be compared to a hubspoke system wherein specialists at central hubs are connected to smaller centres in rural areas as well as at corporations. The U.S.A. has successfully implemented app and kiosk-based solutions which enable 24/7 access to experts for a number of specialities. While a Willis Towers Watson survey found that only 11% of corporations adopted telemedicine practices at their workplaces in 2012, the number rose to 64% in 2016, and is projected to grow to 92% by 2018. I see the same growth potential for Indian corporations as well."

In an engaging talk, Shiv Khera said, "Telemedicine has the power to reach the unreachable and touch the inaccessible in a timely and cost-effective manner. This proactive approach ultimately translates to a positive shift of the country's economy. While technology and knowledge constantly need to be updated, there is tremendous opportunity if you rise to the challenge. However, even the best technology won't work unless the right people are behind it. Moreover, trust and accountability are two factors which are also immensely important."

Mr. Bomi Bhote, CEO, Ruby Hall Clinic concluded, "We are surrounded by products and services that help us get the things we need and want – faster, easier, and, in some cases, cheaper than just a few years ago. With telemedicine, we should expect no less. Truly, virtual care is a game changer. It is set to be the solution to better health and our association with Tata Communications as our technology partner has made this possible. With our Virtual Clinics, we at Ruby Hall Clinic can look to our rich history and tap a wealth of experience as a leading provider of health management and corporate wellness solutions. And it is this very inspiration that continues to drive our hospital to help organisations of all sizes maintain a lasting and positive healthy workplace that translates into healthy people and healthy profits."
BOSTON– May 8, 2017: The Kennedy Forum, a nonprofit organization founded by Patrick J. Kennedy, has released an issue brief on new technologies for improving behavioral health. The lead author of the issue brief was Adam C. Powell, Ph.D., President of Payer+Provider Syndicate. Freely available to the public, the issue brief provides an overview of infrastructure tools, assessment tools, and treatment interventions which can be used to improve the health of people with mental health and substance use disorders. In addition to highlighting existing solutions, the issue brief concludes by providing a series of success stories. Dr. Powell co-authored the report along with the Kennedy Forum senior leadership team, including Patrick J. Kennedy, Garry Carneal, JD, Steve Daviss, MD, and Henry Harbin, MD.
Topics discussed include:
Electronic Health Records
Health Information Exchanges
Care Coordination
Care Management
Predictive Modeling
Telehealth
Genetic Assessments
Heart Rate Variability
Functional Neuroimaging
Cognitive Behavioral Therapy
Remote Peer Support
Biofeedback
Electroencephalogram
Electric and Magnetic Stimulation
Virtual Reality