COVID, Employers, & Tele-Behavioral Health
BOSTON-May 1, 2020: Access to tele-behavioral health services, and employer coverage of services has increased in response to the COVID-19 pandemic. Working with Matthias B. Bowman, MBA, and Henry T. Harbin, MD, Payer+Provider's Adam C. Powell, Ph.D., developed a white paper, titled, "Tele-Behavioral Health for Employees: Pre-COVID Practices and Recommendations for a Post COVID Path Forward" The white paper summarizes how the state of tele-behavioral health has changed in response to COVID-19, and provides employers and health plans with recommendations on changes to promote in order to foster tele-behavioral health going forward.
The white paper's development was funded by the Mental Health Treatment and Research Institute LLC, a not-for-profit subsidiary of The Bowman Family Foundation. It was produced as a component of The Path Forward, a joint initiative of The National Alliance of Healthcare Purchaser Coalitions, American Psychiatric Association, American Psychiatric Association Foundation Center for Workplace Mental Health, Bowman Family Foundation and Meadows Mental Health Policy Institute.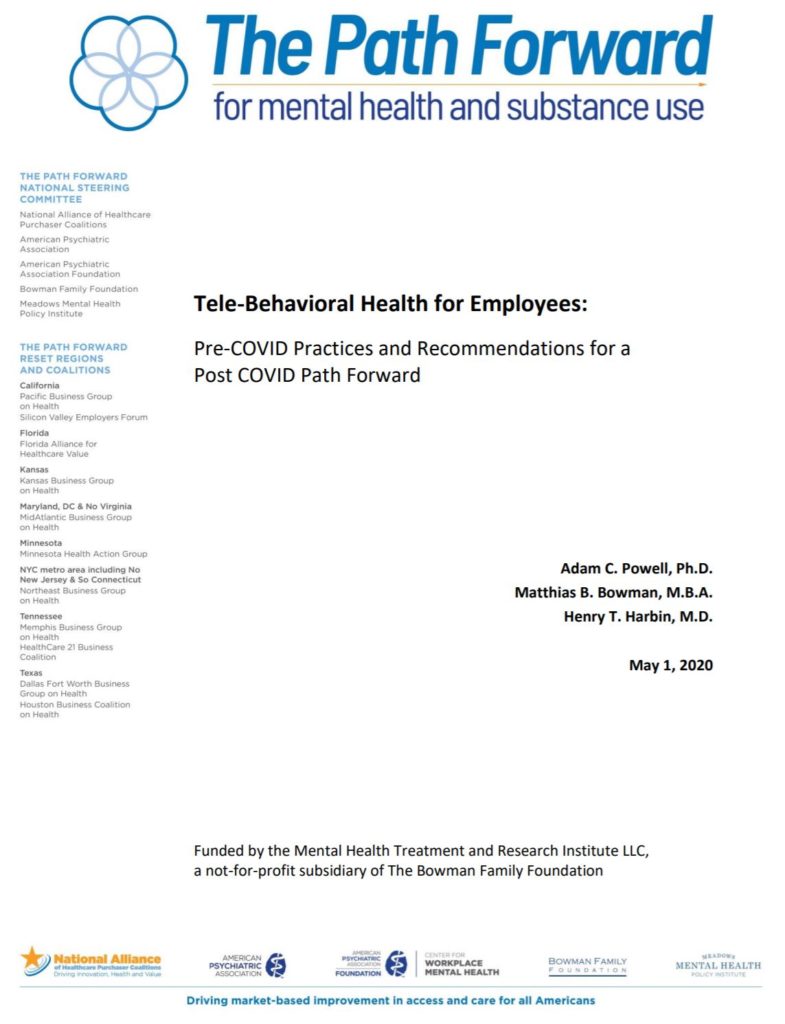 The white paper is available online at: http://workplacementalhealth.org/getmedia/8dee107a-9561-4c92-92d8-723ce5fa7051/Tele-Behavioral-Health-for-Employees