HYDERABAD-December 6, 2021: The techniques used to evaluate the performance of a health plan are to some extent universal. Applying methodologies that he previously used to analyze American claims trends, Adam Powell worked with Preeti Singh to explore claims trends in a health insurance program for low-income people living in Andhra Pradesh, India. The article, Utilization Trends of a Government-Sponsored Health Insurance Program in South India: 2014 to 2018, was published by Value in Health Regional Issues, an Elsevier journal. In short, Singh and Powell found that the average cost per claim declined between 2014 and 2018, while mortality concurrently declined as well.
Since 2013, Adam Powell has served on the visiting faculty of the Indian School of Business (ISB). The Financial Times has ranked the Indian School of Business as the #1 Global MBA program in India, and #23 worldwide. In addition to teaching students at the post-graduate and executive level, Dr. Powell has engaged in research on the Indian healthcare system. It is of particular interest to him due to its structural commonalities with the American healthcare system. This publication is Dr. Powell's third article written in an Indian context. He has previously examined electronic health record adoption and mHealth app privacy policies in India.
BOSTON-March 6, 2021: Measuring the value generated by administrative and technological interventions is at the core of Payer+Provider's business. During 2020, Payer+Provider's President, Adam C. Powell, Ph.D., published a trio of articles that examined value in healthcare from different angles.
Powell AC. Impact of the Artificial Nudge. Academic radiology. 2020 Jan 1;27(1):143-6. – Examined the financial impact of artificial intelligence on a radiology department
Powell AC, Torous JB, Firth J, Kaufman KR. Generating value with mental health apps. BJPsych open. 2020 Mar;6(2). – Described how mental health apps are currently generating value and being reimbursed
Powell A, Torous J. A Patient-Centered Framework for Measuring the Economic Value of the Clinical Benefits of Digital Health Apps: Theoretical Modeling. JMIR Mental Health. 2020;7(10):e18812. – Provided a methodology for quantifying the economic value of the clinical benefits that apps produce for individuals.
In addition to these academic contributions, Payer+Provider spent 2020 actively engaged in helping organizations measure the value that they deliver, frame their stories of past success, and plan for the future.
BOSTON-May 1, 2020: Access to tele-behavioral health services, and employer coverage of services has increased in response to the COVID-19 pandemic. Working with Matthias B. Bowman, MBA, and Henry T. Harbin, MD, Payer+Provider's Adam C. Powell, Ph.D., developed a white paper, titled, "Tele-Behavioral Health for Employees: Pre-COVID Practices and Recommendations for a Post COVID Path Forward" The white paper summarizes how the state of tele-behavioral health has changed in response to COVID-19, and provides employers and health plans with recommendations on changes to promote in order to foster tele-behavioral health going forward.
The white paper's development was funded by the Mental Health Treatment and Research Institute LLC, a not-for-profit subsidiary of The Bowman Family Foundation. It was produced as a component of The Path Forward, a joint initiative of The National Alliance of Healthcare Purchaser Coalitions, American Psychiatric Association, American Psychiatric Association Foundation Center for Workplace Mental Health, Bowman Family Foundation and Meadows Mental Health Policy Institute.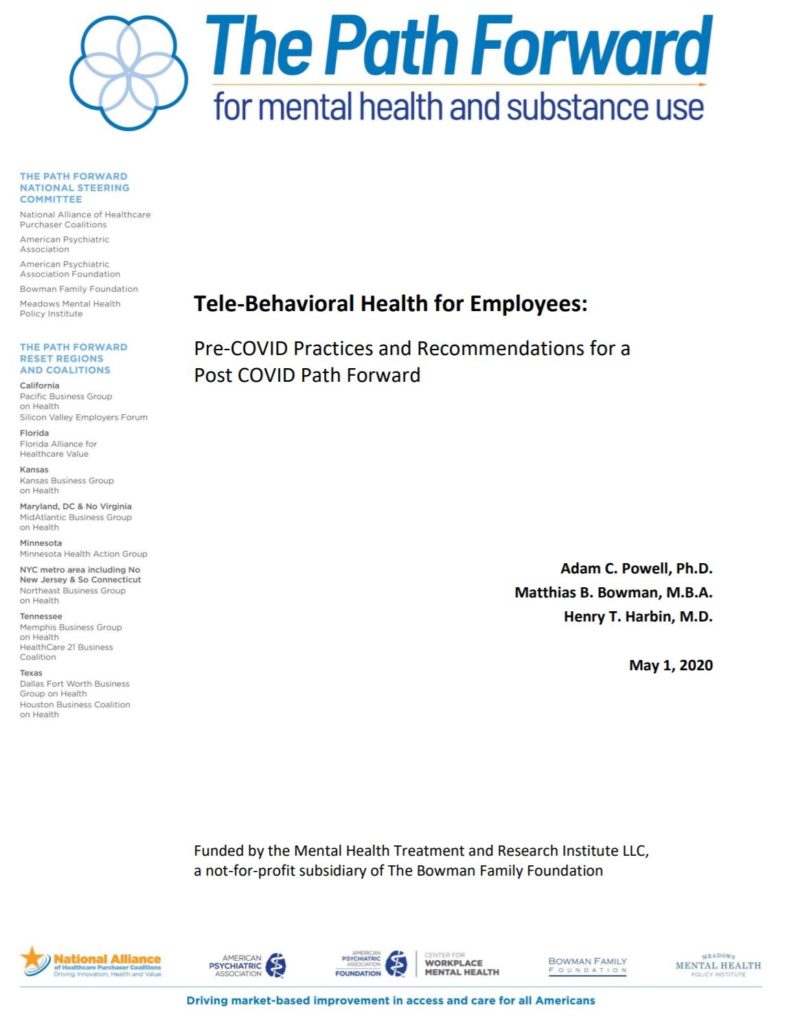 The white paper is available online at: http://workplacementalhealth.org/getmedia/8dee107a-9561-4c92-92d8-723ce5fa7051/Tele-Behavioral-Health-for-Employees
BOSTON-January 2, 2020: As artificial intelligence plays a growing role in radiology, how can the value it delivers be measured? Academic Radiology has published an article titled, "Impact of the Artificial Nudge", exploring these issues. The article, authored by Adam C. Powell, Ph.D., provides a framework for measuring the financial impact of AI on a healthcare organization, as well as commentary regarding the generalizability of value-related analyses. According to Dr. Powell, "As the nation moves towards value-based care, understanding the financial benefits of innovations such as those related to artificial intelligence will only grow in importance. I wrote this article to provide others a pathway to use when exploring value."
Academic Radiology is the official journal of the Association of University Radiologists, and in 2018 had an impact factor of 2.267.
The article is available online at: https://www.academicradiology.org/article/S1076-6332(19)30437-4/fulltext
WASHINGTON DC-June 11, 2019: Apps are playing a growing role in the delivery of mental healthcare. Nonetheless, there is no single means through which they are being reimbursed. To highlight the diverse set of pathways that are being used for reimbursement in the mHealth industry, Adam C. Powell, PhD., delivered the lunchtime keynote on the subject at the 2019 Mental Health America Policy Institute. Other speakers at the event included Congressman Markwayne Mullin, and leaders in digital health, such as Megan Coder of the Digital Therapeutics Alliance, Yuri Maricich of Pear Therapeutics, Anil Jina of Akili Interactive, and Adam Brickman of Omada Health.
Although a recording of Dr. Powell's lecture is not available, it closely mirrored an article he wrote on the subject with Matthias Bowman and Henry Harbin: Reimbursement of Apps for Mental Health: Current Practices and Potential Pathways. The article, which has been accepted for publication by JMIR: Mental Health, may be downloaded here: https://doi.org/10.2196/14724